Craig Dempsey, the CEO of Biz Latin Hub, talks about how recent government moves to encourage a post pandemic economic recovery could make investing in Costa Rica an enticing prospect in 2022 and beyond.
It goes without saying that the global pandemic has negatively affected Central American economies. The region saw a significant reduction in tourism and foreign investment, while unemployment spiked in 2020 and early 2021.
This economic squeeze saw gross domestic product (GDP) decline in Belize, Costa Rica, El Salvador, Guatemala, Honduras, Nicaragua, and Panama. In over half those countries, the GDP decline exceeded the average seen across Latin America and the Caribbean.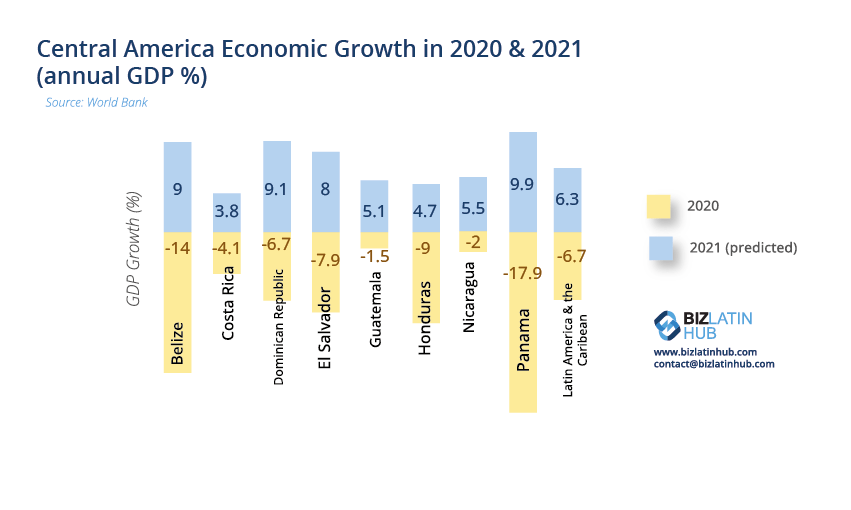 Costa Rica was one of the three countries to see a smaller decline than the regional average.
Given the enormity of tourism in Costa Rica, and the importance of foreign direct investment (FDI) to the economy, this perhaps comes as a surprise.
But a recent projection from the World Bank suggests that GDP in Costa Rica will grow by 3.8% in 2021. This would almost recover the decline seen during 2020.
That is great for the country, which is one of the most developed and prosperous economies in all Latin America. Foreign investors interested in the region will also welcome this projection, as will anyone considering starting a business in Costa Rica.
What is particularly notable about Costa Rica is the efforts the government has been going to to reactivate the economy and revitalize business and investment, with foreign direct investment dropping from 7.8% to 3.5% of GDP due to the pandemic.
While most governments have been engaging in such activities, Costa Rica has launched some significant schemes in recent months to reinvigorate interest among foreign investors and visitors.
🇨🇷 Are you doing business in Costa Rica?

📈 Starting a business in Costa Rica is a popular choice among foreign investors seeking to enter Latin America.

💡 Check out the article below to learn about the subject:https://t.co/ABjc6r8qC2

— Biz Latin Hub (@BizLatinHub) October 11, 2021
Three of these schemes (highlighted below) are particularly noteworthy:
1. Investment barriers lowered.
In August, the Costa Rican government passed a law to significantly reduce barriers to investment — namely by cutting taxes and making it easier for investors to gain residency.
Under the terms of the new legislation, Costa Rica slashed the minimum investment required to gain residency by 25%, from US$200,000 to$15 0,000. Investments in real estate, shares, and a wide range of other projects are eligible for this benefit, which offers investors Costa Rican residency for ten years.
That is a very attractive proposition for foreign investors, who can also enjoy major tax cuts, including the elimination of income tax on funds entering the country, and a 20% reduction on the tax applied to property transfers.
Dependents and other family members of those granted residency under the scheme can also take advantage of these benefits, which include VAT-free importation of vehicles for personal use.
2. Remote workers encouraged.
Another move made by the government is to introduce new legislation to encourage remote workers to move to the country.
The legislation became known as Costa Rica's digital nomads law, named after the moniker commonly given to remote workers who choose to live away from their home country.
Officially called the Law to Attract Workers and Remote Providers of International Services, President Carlos Alvarado signed the legislation into law in August, with the expressed intention of enticing internet-based workers to move to Costa Rica.
The law grants successful applicants a one-year visa, extendable for a further year, as long as the holder has spent half of the first year inside Costa Rica. It also comes with a host of other benefits, including income tax exemption for the duration of the visa, import tax exemptions on equipment needed to undertake the holder's job, and tax exemptions for vehicle importation.
With remote working exploding during the pandemic, and many companies committing themselves to continuing it even after the health crisis ends, the buying power of digital nomads in combination with the fact they will not taking jobs away from locals, combine to make them extremely valuable to economic recovery efforts.
It's worth noting that there are still some T's to cross and I's to dot with this legislation – notably regarding the cost of the initial visa and questions about insurance. But this info should become clearer very soon.
Costa Rica and Panama are the only Central American countries with digital nomad legislation in place.
Bienvenidos los y las nómadas digitales 👩‍💻🧑‍💻
Firmé la ley que permite que una persona extranjera pueda teletrabajar en 🇨🇷 hasta por 1 año, que puede ampliarse por uno más. Incentivo para el turismo, empleo e inversión en las diversas regiones. @CRBenavidesJ @Visit_CostaRica pic.twitter.com/yu44mzs3UC

— Carlos Alvarado Quesada (@CarlosAlvQ) August 11, 2021
3. Green investment backed.
While not originally introduced after the onset of the pandemic, another measure that has received significant promotion recently is the country's so-called "green protocol". This involves opening up increased lines of credit for small and medium-sized enterprises (SMEs) that focus their efforts on the environment and sustainability.
At least 13 banks and financial institutions have signed up for the scheme, which seeks to bolster the country's green economy and encourage the development of products intended to promote sustainability and increase quality of life for Costa Ricans.
Costa Rica is well-known for its environmental credentials, with a massive 'eco-tourism' industry that draws millions of visitors eager to witness and participate in the protection of the country's enviable natural resources.
The Green Protocol sees funding made available for businesses engaged in a wide range of environmentally friendly efforts. These include energy efficiency, renewable energy, and carbon emission reduction.
Costa Rica is a prime investment destination.
Before the economic turmoil of the global pandemic, Costa Rica had experienced almost unbroken growth since the early-1980s, with both GDP and gross national income (GNI) increasing exponentially.
That saw GNI — a key marker of prosperity — reach $12,050 per capita in 2019, almost taking Costa Rica into the ranks of "high-income" nations according to World Bank classifications.
Along with prosperity and terrific natural beauty encouraging foreign investment, Costa Rica also benefits from having one of the highest levels of English proficiency in the region. This makes doing business much easier for investors without a strong grasp of Spanish.
Moreover, Costa Rica boasts some of the lowest levels of violent crime in Latin America and the Caribbean. The capital city of San Jose has a homicide rate lower than those of dozens of US cities.
What are the most English-speaking countries in Central America? We list them all in order of English proficiency from the highest to the lowest. Where does your country fit in? #centralamerica #englishproficiencyhttps://t.co/n88CtmCSaC

— CentralAmericaLiving (@VidaAmerica) October 7, 2021
All this already added up to make Costa Rica a prime investment destination in Latin America and the Caribbean.
With economies now reactivating, the economy projected to bounce back, and the Costa Rican government going to significant lengths to attract foreign capital, significant opportunities are on offer. Expect more foreign investing in Costa Rica to play an important role in the post-pandemic recovery.
Craig Dempsey is the co-founder and chief executive officer of the Biz Latin Hub Group, an organization dedicated to assisting investors in Latin America and the Caribbean.