The Costa Rica government proposes a voluntary program of QR code adoption in a move that many see as a violation of last week's court order to suspend all preparations for the mandate.
In light of last weekend's court decision granting an injunction against the proposed plan to force all non-essential businesses and activities to only admit vaccinated customers, the government of Costa Rica hit back with a new proposal last night.
It's now putting a carrot in front of businesses to voluntarily accept the QR code plan by telling them that if they do, they can open up to 100% capacity. Any business who doesn't install the QR code, says the government, will need to respect capacity limits and social distancing rules.
Comercios tendrán mayores aforos si voluntariamente piden código QR de vacunación COVID-19. 1/3

Más información: https://t.co/JyLSOnIQtC pic.twitter.com/RwjkJLNpdH

— Casa Presidencial 🇨🇷 (@presidenciacr) November 19, 2021
Effective last night, from November 18 to December 1, the government says that sports and cultural activities who only allow vaccinated people in with the QR code, can operate at 25% capacity.
Those who refuse must operate at 15% capacity, keeping social "bubbles" or people 1.8 meters away from each other.
This rule has already angered Costa Rica's football (soccer) clubs, who were all set to start allowing spectators again this weekend at 25% capacity. Now, at the last minute, they're told the 25% capacity is only applicable if they adopt the QR code.
This is something they would have done anyway by January 8, under the original rules. They have no issue with the QR code plan. But being told they have to do it right now or only face a 15% capacity, is something else.
"We received information from the Sports Ministry about a directive from the Casa Presidencial that that First Division stadiums can have a 25% guarantee, only if fans presented the QR code, and if the fans didn't present the code, they could only have a 15% capacity," said Julián Solano, president of Unafut, Costa Rica's top football league.
Solano went on to say that clubs had already taken measures based on previously discussed reopening plans, not the ones suddenly thrust on them last night.
He also said he believed the government was in violation of last weeks court ruling, that said no public authority can request the QR code for "any commercial, recreational and sports activity."
Molestia en clubes por código QR: Presidencia cambió reglas de última hora – https://t.co/KN7pm4rWwT

— CRHoy.com (@crhoycom) November 19, 2021
From December 1, the government goes further than sports and cultural activities alone.
Below is an outline of what the government is offering to businesses who adopt the QR code and to businesses who don't:
Sports, cultural, academic, and business activities with a sanitary operating permit or sanitary authorization:
With QR code: 40% capacity
Without QR code: 20% capacity with distance of 1.8 meters and social bubbles
Events/social activities:
With QR code: 200 people
Without QR code: 100 people with 1.8m distancing and social bubbles
Cinemas/theaters:
With QR code: 100% capacity
Without QR code: Up to 500 people with 1.8 meters social distancing and social bubbles
Nightclubs, discotheques, etc:
With QR code: 50% capacity.
Without QR code: 25% capacity with 1.8m social distancing and social bubbles
See the table below for full details of what they will allow under this voluntary plan, which runs from December 1 to January 7: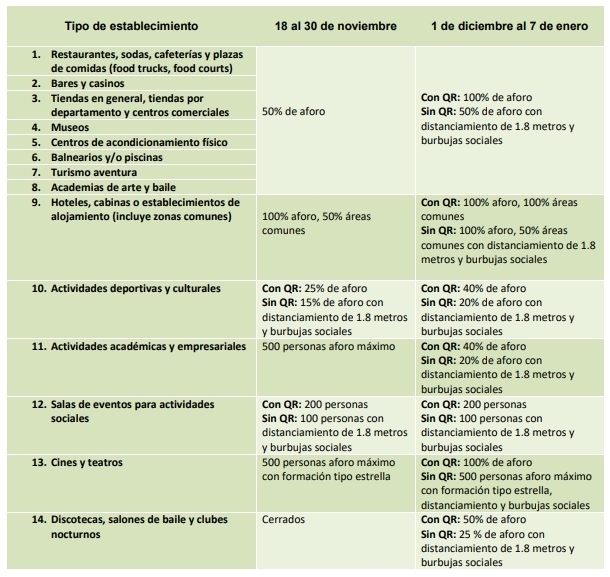 Essential business, like supermarkets, were always exempt from these rules previously, before the court ruling.
But in a weird twist, it seems the government is offering them a chance to go full capacity if they adopt the QR code. Quite how this will affect unvaccinated people's right to buy groceries to feed themselves is a concern.
Furthermore, all businesses will have to put up a sign on their doors from December 1, saying if they are participating in the QR code or not.
As Unafut president Julián Solano said, all this seems to be a direct violation of the court ruling prohibiting the government from preparing for the QR code.
There has been no word on what will happen after January 7, when the government had planned to make the QR code mandatory.
For its part the government claims that a QR code system is the only way to get Costa Rican businesses back to full capacity again. It cites a "recent European Union report" (with no link at all), saying similar plans over there are a success.