Unvaccinated travelers from Costa Rica, Guatemala, the United States, and other countries must now quarantine for three days (72-hours) upon arrival in Panama.
Last night, Panama added more countries onto its "high-risk" list for Covid-19.
Included in that list are Central American neighbors Costa Rica and Guatemala, plus the United States. If you're unvaccinated against Covid, it's now a lot more onerous to visit Panama from any of these countries.
According to Visit Panama, Panama's official tourist site, "Non-vaccinated travelers arriving from or that have transited through High-Risk countries in the last 15 days will be required to quarantine for 72 hours in a hotel, and the cost of the stay must be fully covered by the traveler. However, travelers arriving from these countries that can present a complete vaccination scheme, equal to or greater than 14 days after the last dose, will be exempt from the 72-hour quarantine."
The full list of countries Panama deems high-risk are as follows:
Azerbaijan, Costa Rica, Cuba, Estonia, Fiji, French Guyana, Georgia, Greece, Guatemala, Guinea Bissau, Israel, Macedonia, Malaysia, Mongolia, Montenegro, Serbia, South Africa, Tunisia, the United Kingdom, and the United States.
Outside of French Guyana, it seems Panama has removed South America from its high-risk list. The list of countries above also appears to be more political, rather than a concerted effort to keep out Covid. Could it be Panama is retaliating in kind against countries that put it on their own high-risk lists? But that's neither here nor there.
Prior to traveling to Panama, ensure you read the latest entry rules and restrictions, especially when arriving from high risk countries: https://t.co/UY88hqeQEH pic.twitter.com/eyJ5pVq6Br

— Canada in Panama (@CanEmbPanama) September 2, 2021
One source of confusion here is with Panama's testing requirements.
It's unclear from Visit Panama's wording if or not you need to quarantine if you present a negative Covid test taken within 72 hours prior to travel.
The U.S. Embassy implies unvaccinated travelers from high-risk countries can avoid quarantine if they present a negative test upon arrival, rather than getting tested upon arrival. It suggests only those traveling without a test need to quarantine. At time of writing, though, the U.S. Embassy hasn't updated its page to show the United States as a high-risk country.
According to our sources, if you're traveling unvaccinated from a high-risk country, any test you bring with you is moot, and you need to take a test upon arrival in Panama. We'll verify this one way or another as soon as we can.
In the meantime, it's better to assume you'll need to quarantine if you're unvaccinated.
For anyone confused about the new rules for entering Panama, vaccinated or unvaccinated, high-risk country or non-high-risk country, you should check out the I Go Panama YouTube channel and Facebook group run by Bocas del Toro expat Mary Middlebrook. Alongside her Facebook group, she also has a page full of info about all aspects of visiting or living in Panama. What caught our attention today was her flow chart simplifying the new rules more than words can: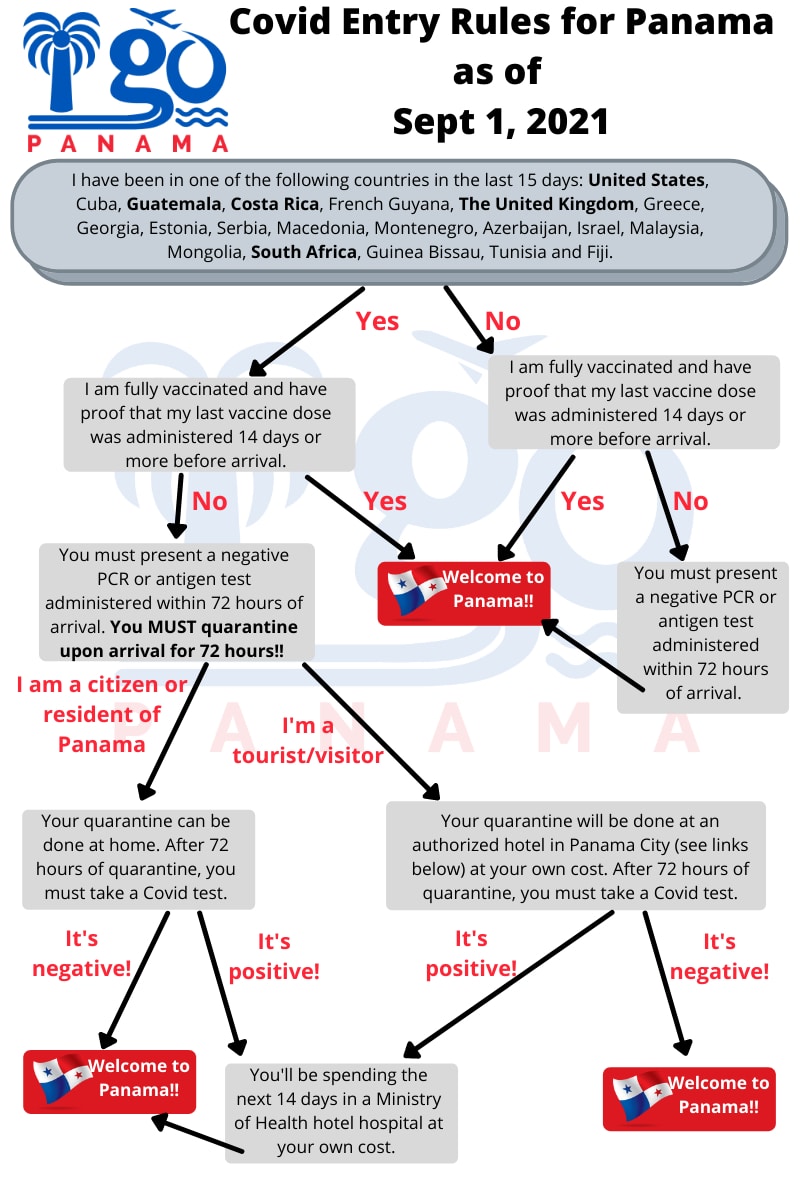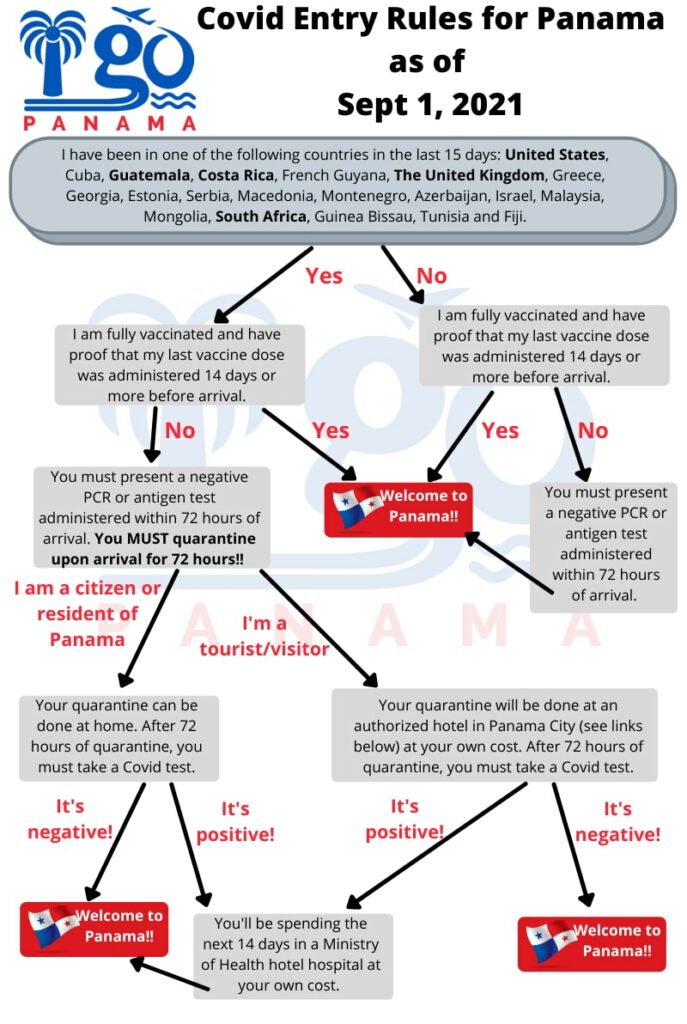 If you're a tourist (ie. not a Panamanian citizen or legal resident), you have the choice of the following hotels to quarantine in (at your expense):
You'll need to book your accommodation at one of these hotels (three nights) in advance, and show that reservation upon arrival in Panama.
Note that all these hotels are in and around Panama City, which makes it difficult for unvaccinated travelers crossing the border from Costa Rica.
Does this mean Panama will deny entry to unvaccinated travelers crossing the border from Costa Rica? Assume, that for now at least, this is the case, unless they add quarantine hotels in Bocas del Toro or David. More info is definitely needed here, and if you're doing a visa run from Costa Rica while unvaccinated, you might want to rethink Panama.
Panamanian citizens and legal residents who have been in a high risk country can quarantine at home.
It's important to know that the three-day quarantine is dependent on your receiving a negative test result upon arrival in Panama.
If your test is positive, they'll quarantine you in a "hospital-hotel" for 14 days, as per existing rules.
Once you've completed your three-day quarantine, they'll test you again. If negative, you can end your quarantine and go about your life. If positive, it's 14 days more quarantine in a hotel hospital.
Vaccinated travelers should upload their vaccination details here before entering Panama. They'll receive a QR code that will allow them to waive the test upon arrival.
Unvaccinated travelers entering Panama from a country not on the high-risk list, or who have not been in a high risk country in the last 15 days, do not need to quarantine at all, unless they take a Covid test upon arrival and get a positive result. Failing that, all they need to is take their test within 72 hours prior to travel.
This is an ongoing, breaking story, with more details yet to emerge, and we'll fill you in as we get more info.
An updated guide to the Covid travel restrictions in Central America.#travelrestrictions #centralamerica https://t.co/ws988F8Jv6 #News #Travel

— CentralAmericaLiving (@VidaAmerica) September 1, 2021
James Dyde is the editor of centralamerica.com. He lives in Escazu, Costa Rica.