We've been talking for months about tourism in Central America during this pandemic. But we never focused on the requirements for travelers returning home from Central America. We'll address that here.
It's one thing traveling to Central America to explore our rainforests, beaches, and culture. The weather's getting better and for the most part, our individual COVID curves are on the right track. But it's something else altogether to face the prospect of travel bans or quarantines when you get home.
That's the kind of thing to make anyone hesitate, no matter how tempting the prospect of some tropical sun can be after a terrible year, especially in the light of the new omicron variant they're all talking about.
Each Central American country has its own entry requirements and COVID protocols for incoming tourists. But one thing we often overlook is that so do most other countries, and these protocols can affect us as we try to boost tourism again.
It's worth us, here in Central America, knowing which countries and regions are doing what.
Because this affects tourist flow as much as our own protocols, and determines factors like which airlines are coming in or not. And for their part, potential travelers need to know what's in store for them when they return.
For that reason, we've created a guide to the rules governing travelers returning home to other countries. For the sake of this article, we're only looking at North America and Europe. These are the regions from where Central America receives the vast majority of tourists. Travelers from elsewhere should check with authorities in their individual countries.
We'll do our best to update this guide as and when info changes.
North America:
Canada
Canada has reopened its borders to travel to/from Central America. Flights have resumed again between Canada and various countries, including Costa Rica, Panama, and Belize. More flights will open up to/from the region as winter gets underway.
All travelers to Canada must provide negative results of a PCR test taken within 72 hours of boarding their flight. Canada does not accept rapid antigen tests. They must also download the ArriveCAN app and fill in the required info. Upon arrival in Canada, they must take another PCR test if selected to do so. Canada wants to ramp up its "selections" to 100% of all arrivals.
Unvaccinated travelers need to quarantine for 14 days, and take another test on Day 8. Their place of quarantine has to be approved by the government. Canada is super-strict about quarantine locations, so read the requirements carefully.
Please note that these rules apply to Canadian citizens/residents for the main part. If you're not a Canadian citizen or resident, and you wish to enter Canada while unvaccinated or partially vaccinated, there's a chance you might be denied entry.
#Snowbirds, if you travel:

Local #Covid19 rules still apply. Make sure you're up-to-date with entry requirements and #StaySafe.
https://t.co/IKVft3yvbA pic.twitter.com/TBUib3BwLj

— Canada in Belize (@CanadainBelize) January 6, 2022
United States
All travelers returning to the United States must show a negative Covid test – either PCR or rapid antigen – taken within one day prior to arrival. This applies to vaccinated and non-vaccinated travelers alike.
The United States accepts home tests for travelers to bring with them to avoid getting their tests abroad before flying home, but recommends checking to see if that home test will be accepted by the airline or the country the traveler is departing. Costa Rica, for example, does not allow home tests.
You can only enter the United States non/partially-vaccinated if you're a U.S. citizen or legal resident. Non-citizens/residents 18 years old or over must show proof of full vaccine, with the second dose completed a minimum of two weeks before arrival. The CDC lists the following exemptions for non/partially-vaccinated non-citizens/residents:
Persons on diplomatic or official foreign government travel
Children under 18 years of age
Persons with documented medical contraindications to receiving a COVID-19 vaccine
Participants in certain COVID-19 vaccine trials
Persons issued a humanitarian or emergency exception
Persons with valid visas [excluding B-1 (business) or B-2 (tourism) visas] who are citizens of a foreign country with limited COVID-19 vaccine availability
Members of the U.S. Armed Forces or their spouses or children (under 18 years of age)
Sea crew members traveling pursuant to a C-1 and D nonimmigrant visa
Persons whose entry would be in the national interest, as determined by the Secretary of State, Secretary of Transportation, or Secretary of Homeland Security (or their designees)
Any other reasons for entering the United States, including vacations, visiting family/friends, and business require proof of full vaccination. In addition, non-citizens/residents must also show a negative Covid test taken within three days prior to entering the United States. Any non-vaccinated non-citizen/resident entering the United States under any of the exemptions listed above must show their negative test was taken within 24 hours prior to arrival.
Mexico and the rest of North America
There are no current travel restrictions or protocols for travelers returning to Mexico. If you're from elsewhere in North America, please check with your individual country. You can find entry requirements for Central American countries here.
As El Salvador drops all restrictions, here's an update of the Covid entry requirements for each Central American country. We only cover the requirements needed (or not) to ENTER each country, NOT internal restrictions or curfews. https://t.co/ws988F8Jv6

— CentralAmericaLiving (@VidaAmerica) November 18, 2021
Europe:
For the sake of brevity, we'll only count the "larger" European countries from where most visitors to Central America travel from.
France
Since June 2021, France has divided the world into red, orange, and green countries. Red countries are designated "do not travel to" and green countries are open, with little to no restrictions. Orange countries lie somewhere in the middle.
Currently, all Central America is designated "orange". French travelers wishing to visit Central America must present a valid reason in the first place for doing so, which can be found here for orange (in French). Vacations or tourism are not valid reasons.
Assuming one's had a valid reason to be in Central America, and is returning to France, a vaccinated French citizen or resident will only need to show proof of vaccination upon arrival and also present a negative PCR or antigen test taken up to 48 hours before travel.
Non-vaccinated travelers returning to France need to fill in the International Travel Certificate. In this form they need to explain why they were in a an orange country in the first place. They will also need to take a PCR test within 48 hours prior to arrival, and another test upon arrival. They will then need to self-isolate for seven days.
Germany
In May 2021, Germany abolished all testing and quarantine requirements for all vaccinated travelers arriving into the country from countries not designated as high risk or high variant risk. At this time, in Central America, this applies to all countries except for Belize.
This means that although vaccinated travelers coming to Germany from Belize don't need to quarantine, they do need to complete the digital entry registration. Vaccinated travelers arriving in Germany from high risk countries also need to present a negative PCR test taken within 72 hours prior to arrival or, if a rapid antigen test, taken within 48 hours prior to arrival. Again, Germany requires no further tests or quarantines for vaccinated travelers.
Unvaccinated travelers arriving in Germany from Belize must be German citizens or residents. They must also fill out the entry registration and fulfill testing requirements as listed in the previous paragraph, and then quarantine for ten days. Unvaccinated non-citizen/resident Germans can enter Germany from the rest of Central America, but must go through the entire testing and quarantine process.
Italy
Italy has broken the world into five categories or lists, A through E. Right now, all of Central America is at E meaning arrivals back into Italy (vaccinated or not) must fill in the EU Digital Passenger Locator Form and present a negative COVID test (PCR only) taken within 72 hours prior to entry. They must also quarantine for ten days under supervision of health authorities. Arrivals must also call the COVID-19 hotline after arrival to inform authorities of their arrival. All travelers to Italy must also wear an FFP2 mask.
Netherlands
The Netherlands has designated Central America either High Risk or Very High Risk. The only Very High Risk country is Belize, while every other country is High Risk.
Vaccinated travelers returning to the Netherlands from Belize (Very High Risk) must fill in a Health Declaration Form, plus show proof of a negative Covid test taken within 48 hours prior to departure for a PCR and 24 hours for a rapid antigen. Then they're good to go. Unvaccinated travelers need to follow these same steps, and fill in a Quarantine Declaration Form in addition to the Health Form. Then they must quarantine for ten days.
Vaccinated travelers arriving from the rest of Central America (High Risk) need to don't need to take a Covid test to enter the Netherlands, but they must fill out the Health Declaration Form as their only requirement. Unvaccinated travelers have to follow the testing requirements mentioned above, plus the Health Declaration Form.
The Dutch government advises all travelers to get tested again two days and five days after arrival in the Netherlands, although this is advice, not mandatory.
Spain
All travelers arriving in Spain must fill in the Spanish government's FCS health control form. This will give them a QR code with the info needed upon arrival. Travelers arriving from any Central American country must enter proof of full vaccination in their form plus proof of a Covid test taken within 72 hours (for PCR) or 48 hours (rapid antigen) prior to arrival.
Switzerland
The simplest way to explain returning to Switzerland is to look at the chart below from the Swiss Federal Office of Public Health.
Switzerland accepts PCR tests carried out within 72 hours of arrival and rapid antigen tests within 24 hours. The quarantine period (if applicable) is ten days. You can find the entry form here.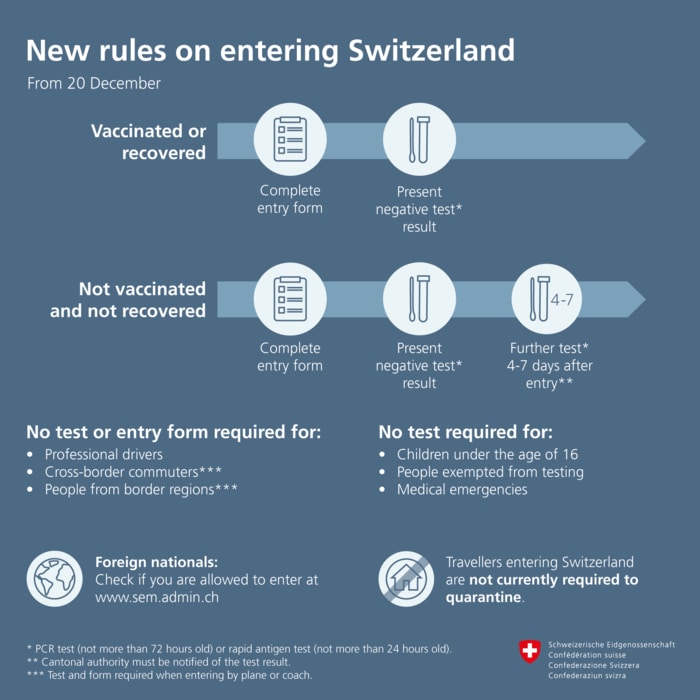 United Kingdom
The UK abolished its traffic light system in October and now allows travel from every country in Central America.
Vaccinated travelers to the UK need to fill in a Passenger Locator Form within 48 hours prior to arrival. They also need to book and pay for a Covid test to be taken two days after arrival. This test has to be PCR, and needs to be booked online before arrival (from January 9, this test can also be a lateral flow).
Unvaccinated travelers need to fill in the Passenger Locator Form within 48 hours prior to arrival, and also show proof of a negative test (PCR or lateral flow) taken within 48 hours prior to arrival. After that, they must also book and pay for tests for both two days and eight days after arrival. Upon arrival, they must quarantine for ten days.
The UK eases entry rules for fully vaccinated passengers by scrapping the pre-departure test to enter and self-isolation. Antigen/lateral now allowed for Day 2 tests #UK
https://t.co/H60WSLiIMe

— Travel Off Path (@TraveloffPath) January 6, 2022
That wraps up our latest update on the restrictions travelers face when returning to their home countries from Central America.
We hope you found it useful. We'll continue to update this as much as we can throughout the remainder of the pandemic. And if we've gotten anything wrong, also let us know. It's not easy staying on top of all this, but we try our best and will remedy any mistakes made.
James Dyde is the editor of www.centralamerica.com. He lives in Escazu, Costa Rica.