In his latest article, Biz Latin Hub CEO Craig Dempsey offers four good reasons why investing in Honduras might be worthwhile.
When discussing setting up shop in Latin America, company formation in Honduras rarely enters the conversation with investors. But there are a many reasons why foreign capital should be giving more consideration to this particular Central American country.
Famed for being the original "banana republic" due to its dependence on fruit growing, and the political influence wielded by fruit companies in the early 20th century, today Honduras still draws over 12% of its GDP from the agricultural sector.
That's the second-highest rate in the region — over twice as much as Costa Rica and El Salvador, triple that of Mexico, and almost five times that of Panama.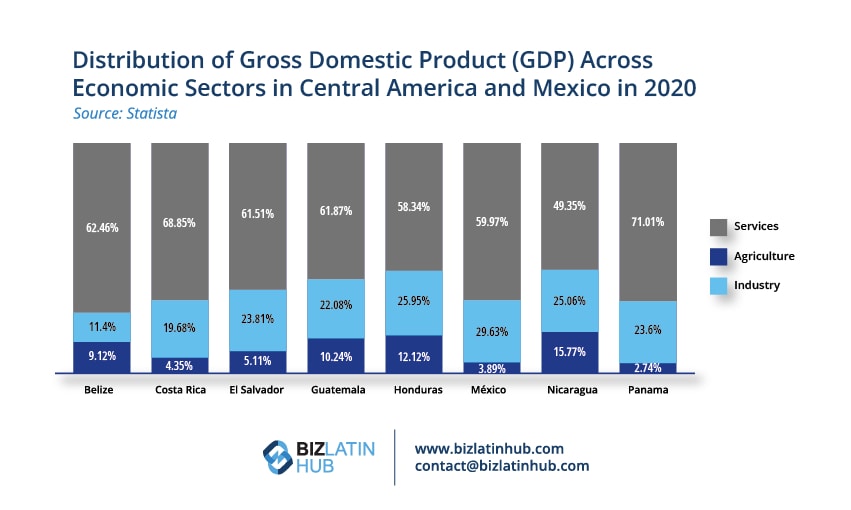 But while agriculture remains crucial to the economy, with bananas and coffee both key export commodities, Honduras is also home to a growing industrial base, and is taking steps to diversify exports, as the World Bank notes.
Honduras already has a well-developed manufacturing industry, with garments and electrical goods other significant exports.
Many manufacturing companies are based in one of several public or private free trade zones (FTZs) in the country, which offer investors enticing benefits, such as free imports of machinery and raw materials, free currency exchanges, and expedited approval processes for the import and export of goods.
🇭🇳 If you plan on doing business in #Honduras, here is a 6-step guide to help you do so.

📝 Honduras is an attractive prospect, thanks to consistent growth, an improving security situation, and good #Business #Opportunities.

👉 Check out the article : https://t.co/YNqD78Xtca

— Biz Latin Hub (@BizLatinHub) September 25, 2021
On top of this, investors should be giving more consideration to Honduras for the following reasons:
1. Strong growth and improving business conditions
Before the global pandemic, Honduras witnessed 25 years of almost unbroken growth, and, as the World Bank highlights, over recent years it has registered the second-highest growth rate in Central America, only exceeded by Panama. Honduras has also made notable efforts to encourage greater investment and open up more to international business.
Over the past decade, Honduras has significantly expanded its portfolio of free trade agreements (FTAs), including signing deals with Canada and Peru. With its Central American neighbors, Honduras has also signed collective deals with the European Union, South Korea, and the United Kingdom.
Those deals have added to existing deals with Colombia, plus the Central America-Dominican Republic United States FTA (DR-CAFTA), offering preferential access to both the largest economy in the Caribbean and the largest economy in the world.
2. Competitive labor market
Honduras has a growing and increasingly urbanized population, with an average age of just 24.3 years old in 2020. That means it has a ready supply of workers for new businesses to draw from.
The country imposes a minimum wage for entry-level and unskilled workers, ranging from around $236 to $365 per month, which combines with a corporate tax rate that has dropped by 10% over the past decade to create a highly-competitive market for doing business.
The country also boasts relatively high levels of English proficiency — second in Central America to Costa Rica — and better than significantly more popular investment destinations, including Brazil, Colombia, Mexico, and Peru.
3. Improving security situation
While Honduras has a reputation for violence and insecurity, the intentional homicide rate has more than halved over the past ten years, from 73.1 homicides per 100,000 people in 2013 to 37.6 per 100,000 in 2020.
That's not to say the current situation is good, because Honduras still remains one of the most violent countries in the region. Indeed, it now has the highest homicide rate in Central America, as El Salvador's rates plummet. But it does point to major improvements in the security situation, with property crime also having fallen in recent years.
Of course, doing business in Honduras means taking the proper precautions to ensure the safety of yourself, your employees, and your assets. However, the government's attempts to attract more business, the improvements seen can be expected to continue.
4. Geography and logistics
Sat between Guatemala and Nicaragua, and with over 500 miles (800 kilometers) of Caribbean coastline, Honduras offers easy access to the major North American markets of Canada, Mexico, and the United States.
The country has five notable ports serving both the Caribbean Sea and Pacific Ocean, including Puerto Cortes, the largest and deepest port in Central America, which has capacity for up to ten large vessels at a time and regular shipping to Miami, New York, and New Orleans, as well as Asia and Europe.
Honduras has also seen its highway network grow over recent years, with thousands of miles of multi-lane roads connecting the country's major cities. On top of which, Tegucigalpa's Toncontín International Airport has direct flights to Dallas, Houston, and Miami, with the longest journey taking less than four hours.
All of this adds up to suggest Honduras could have a bright future, making it an interesting destination for investors that offers a wide range of opportunities to anyone with the right plan and support.
Craig Dempsey is the co-founder and chief executive officer of the Biz Latin Hub Group, an organization dedicated to assisting investors in Latin America and the Caribbean.