Those of you interested in business opportunities in El Salvador may not have seen or heard much beyond the new "Bitcoin Law" about to roll out in that country. But if you're serious about investing in El Salvador, you should look beyond that. Biz Latin Hub CEO Craig Dempsey explains why.
Interest in El Salvador has spiked since the announcement in early June of a new law that will make the cryptocurrency Bitcoin legal tender in the country from September 7.
Yet while that publicity-grabbing move has produced a lot of headlines — and drawn fair criticism in the process — it has only served as a distraction from the strong investment opportunities that Latin America's smallest mainland nation has to offer.
As many within the Salvadoran investment community and the broader Latin American business world will be able to testify, a great deal of the interest that the Bitcoin Law has generated has not been from serious investors.
More details on El Salvador's plan to make Bitcoin legal tender emerge, as President Nayib Bukele addressed the nation last night. https://t.co/at4J4lLaHa

— CentralAmericaLiving (@VidaAmerica) June 25, 2021
Since June, Biz Latin Hub has seen a significant number of requests coming in from people seeking to open crypto bank accounts — something that won't be possible until September at the earliest, as any serious investor would have figured out during their initial research.
Among those making requests, a great deal are part-time or amateur crypto traders, while a significant minority appear to be people or organizations involved in, or seeking to become involved in, questionable ventures, such as online gambling. There is a growing need to educate the population on how to buy Bitcoin in order for it to become a viable alternative investment.
It would be wrong to suggest any sort of wrongdoing or bad intentions on their part, but it would also be fair to say that a good number of these requests set alarm bells ringing, from an ethical if not legal point of view, and these are not the sort of investors a country should be trying to attract.
A pragmatic look at Bitcoin as "legal tender" in El Salvador. Will it actually WORK for Salvadorans (as opposed to foreign expats and wannabe expats) or is it just a publicity stunt?https://t.co/dHMoGXi0CO

— CentralAmericaLiving (@VidaAmerica) June 23, 2021
El Salvador should appeal to serious investors.
The upshot of this situation is that by pursuing its attention-seeking Bitcoin Law, the populist government in El Salvador risks putting off serious investors just at a moment when the country offers particular appeal to foreign capital.
Because while interest in market entry and company formation in El Salvador has not waned, it has also not seen the sort of uptick that the current investment climate deserves.
The Salvadoran economy was anticipated to register 5% growth this year, according to a report from the UN's Economic Commission for Latin America and the Caribbean (ECLAC) released in July — a strong showing placing it among the top ten countries for growth in the region.
🇸🇻 El Banco Central del Salvador publica normas para facilitar el uso del bitcóin.

👊 El Salvador es una buena opcion para invertir!

Read the article below: https://t.co/ulaWeLOcEA#LATAM #Salvador #Bitcoin

— Biz Latin Hub (@BizLatinHub) August 21, 2021
While the Salvadoran government had predicted a higher growth rate of 6% the previous month, last week its central bank announced it now anticipates that growth for the year will hit 9%.
If accurate, that figure will thrust the country into the top five in Latin America and the Caribbean, behind only Guyana, Panama, and Peru.
Even if growth ends up being 1% below the official estimate — in keeping with ECLAC's earlier lower prediction — El Salvador would still occupy fifth spot alongside Chile, one of the strongest economies in the region.
In announcing the revised prediction, Douglas Rodriguez, the president of El Salvador's central bank, said the main drivers of growth include industrial production, investment, household consumption, and exports.
Such a positive outlook, based on multiple drivers, rather than reliant on one or two, is exactly the sort of thing that investors look for when seeking out their next opportunity.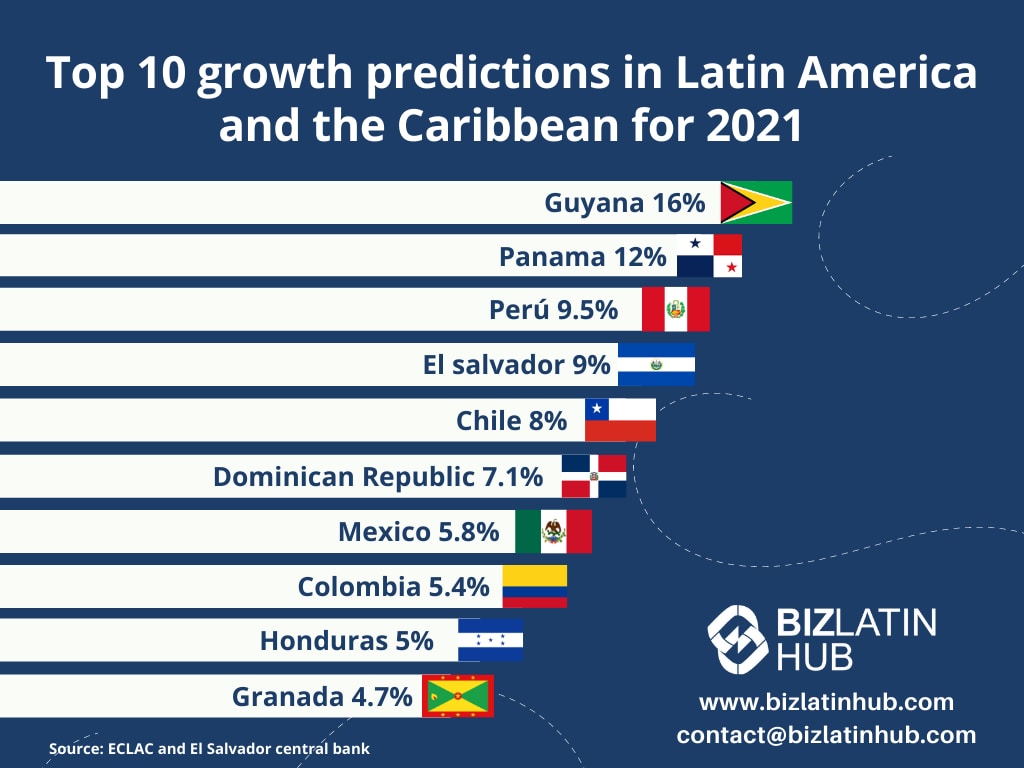 El Salvador economy offers significant opportunities.
It goes without saying that El Salvador is not generally the first destination on people's lips when discussions of investment in Latin America arise, but the country offers some enticing opportunities.
Since emerging from a decade-long civil war at the beginning of the 1990s, the country witnessed five-fold growth in gross domestic product (GDP) between 1992 and 2019. That has seen a corresponding improvement in prosperity, with gross national income hitting $4,000 per capita in 2019 — seeing the country rise to the rank of 'upper-middle income' nation by standards set by the World Bank.
While the global pandemic of the past 18 months has undoubtedly undone some of the gains of recent years — as it has done in almost every economy around the world — the trajectory the country was on was positive, despite its well-known battle with high levels of crime.
For investors looking at El Salvador, it offers a diverse economy with a services sector that accounts for approximately 60% of GDP, and a large industrial base accounts for 26% of GDP. Both include a number of unsaturated markets and strong prospects for investment.
For investors from English-speaking countries, the attraction of the services sector is bolstered by the fact that the country boasts stronger English proficiency levels than the likes of Colombia, Mexico, and Peru — some of the most popular investment destinations in the region.
🇸🇻 De acuerdo con @elsalvadorcom Economía de #ElSalvador se recupera del 2020 gracias a remesas y exportaciones, economistas señalan que el país podría hablar de crecimiento económico en un año, cuando logre llegar a https://t.co/ZGhQSmV2qK

— Biz Latin Hub (@BizLatinHub) July 8, 2021
Meanwhile, much of El Salvador's industry is based in one of the country's 17 free trade zones (FTZs) — an extensive network for such a small country that offers significant tax incentives to investors.
Among the products manufactured in significant volumes in the country include garments, electrical machinery, and pharmaceuticals, with the massive US market a primary destination for such goods.
What is more, with one of the highest population densities in the region, El Salvador has a ready workforce available at competitive rates to both the services and industrial sectors.
All this adds up to make El Salvador an enticing option for investors looking to launch in Latin America and the Caribbean — but one that may be being missed given the ongoing distraction of the country's Bitcoin Law.
Craig Dempsey is the co-founder and chief executive officer of the Biz Latin Hub Group, an organization dedicated to assisting investors in Latin America and the Caribbean.