The Costa Rican government announced today that masks will now be mandatory in public starting this Saturday, June 27.
The new rule will coincide with the expected third phase of reopening, postponed from last weekend. Restaurants and other services
will
reopen this weekend, but with masks.
Anyone who serves the public (store clerks, restaurant workers, etc) will need to wear a mask. Customers will also have to mask up, as long as – in the case of restaurants – they're "not consuming." Restaurant workers will need masks rather than face shields due to their elevated position to their customers (they're standing up, customer sitting down).
Masks will be obligatory on public transport (including taxis and Ubers – any paid transportation, in effect), cinemas, theaters, churches, and banks.
In his daily COVID briefing, Health Minister Daniel Salas said the masks can be surgical or fabric, as long as they cover both mouth and nose. He drew attention to the Ministry of Health website for more info on proper mask usage, and how to make them at home.
In his comments, Salas emphasized that Costa Rica needed this new measure to allow Phase Three of openings to go ahead this weekend, and said the virus was now circulating in major population centers. He went on to say that masks were still never a substitute for social distancing and proper hand hygiene.
"The pandemic requires us to adjust with new measures, new formats, and new tools," said Salas. "We haven't had masks in our lives before, but now it's important to adapt and use them correctly, covering our mouths and noses and not touching them. We shouldn't let masks give us a false sense of security, though. Social distancing and hand washing are still the golden rules."
Costa Rica joins the rest of Central America, with the exception of El Salvador and Nicaragua, in making face masks mandatory. Panama, Honduras, and Guatemala mandate the wearing of masks at all time when outside, not only in public.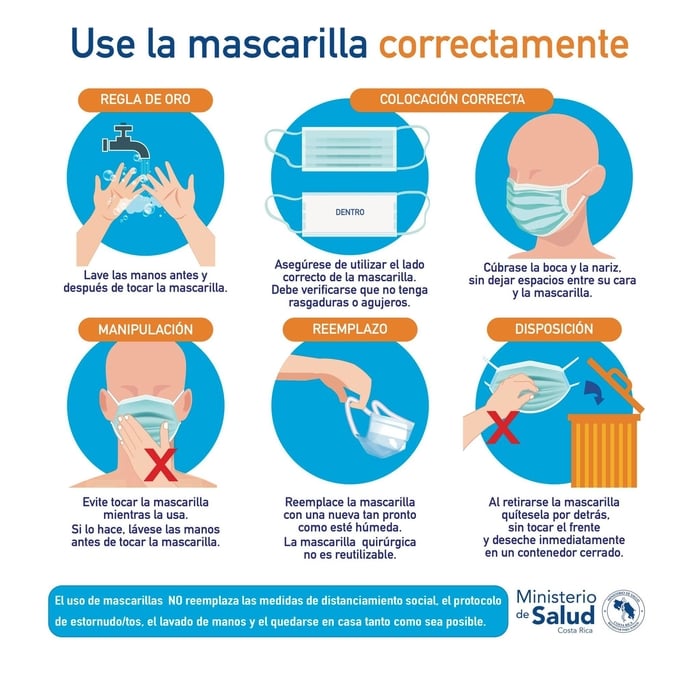 Phase Three of Costa Rica's reopening was scheduled to get underway last weekend, but a high caseload of new infections last week postponed that.
Salas said that he would announce more details of the third phase to open this weekend later this week. That implies that this new Phase Three may be different to the original Phase Three, not counting the new mask rule.
Many businesses in Costa Rica, have been encouraging mask usage for a while, so this new measure is no surprise. It's worth emphasizing that wearing a mask does not necessarily protect YOU from COVID-19. What it does do is help protect other people from you.
In today's briefing, Salas gave no indication regarding the opening of Costa Rica's borders.
Related post: Making Masks to Fight Coronavirus in Guatemala
James Dyde is the editor of www.centralamerica.com. He lives in Escazu, Costa Rica.