In our coronavirus Crisis Heroes series, we highlight a small travel agency in Antigua, Guatemala with a big heart.
Guatemala confirmed its first case of COVID-19 way back (feels like forever ago now, doesn't it?) on March 13, and President Alejandro Giammattei reacted forcefully.
Even before the first case, Giammattei had banned entry to all Europeans, Iranians, Chinese, and South Koreans. Then he added American and Canadian citizens to its no-entry list.
After that, Giammattei suspended work and public transport. He also prohibited all foreigners from entering Guatemala and banned the sale and use of alcohol after 5:00 PM.
Guatemala has fewer confirmed cases of COVID-19 than Panama, Costa Rica, and Honduras, but the disease seems to be escalating at a fast rate.
On April 6, Giammattei warned the worst was yet to come and instigated more lockdown measures. Then he ordered the mandatory wearing of face masks, effective Monday, April 12.
Guatemalan President orders mandatory wearing of face masks https://t.co/NY2CtwIJbB

— LOTTY (@LotydeGuatemala) April 9, 2020
Face masks are controversial in coronavirus circles, as we all become amateur virologists and argue the pros and cons of wearing them.
The original recommendation was to NOT wear face masks during this crisis. The reckoning was that on "normal people", untrained to wear them, they won't do much good anyway.
They'll encourage you to touch your face more, or touch the mask and then your face. Or you'll get overconfident in a mask and feel you can cut down on the social distancing and hand washing. Or you won't put it on properly.
Officials worldwide, from the WHO on down, have spent weeks telling us that face masks are next to useless, using all the reasons above and more.
But here's the thing. They're not useless. Not as long as you think about them in a different way.
Face masks work by protecting other people from YOU rather than protecting YOU from other people. It's not about you getting this thing. It's about stopping OTHERS from getting it from you.
That means when you see someone in a mask, they're protecting you more than themselves. It's a community effort that needs a reset of the mind to work properly.
In recent weeks, the CDC and other health organizations around the world have u-turned on face masks and now encourage their use.
The CDC has advised Americans to wear face masks to slow the spread of the coronavirus, and around the world, people are doing the same.

For your mask to be most effective, it's important that you wear it correctly.

Here are the dos and don'ts. https://t.co/GkBNJAuw1V

— The New York Times (@nytimes) April 9, 2020
The new measure in Guatemala requiring everyone to wear masks from April 12 is no bad thing. It'll force everyone to protect their neighbors, and in return, protect themselves and help to flatten the curve.
So where will people get face masks in Guatemala in the next couple of days? Enter Antigua-based travel agency Heart of Travel.
Founded by Californian Chelsea Glass and Guatemalan Ana Castillo, Heart of Travel is a boutique agency offering small group tours. They place an emphasis on ethical and responsible travel practices to put money into the hands of small local businesses, entrepreneurs, artists, and artisans.
When Volcan de Fuego erupted in June 2018, killing almost 200 people and devastating local communities, Heart of Travel raised over $26,000. After the eruption, they worked with a group of widows in the town of San Juan Alotenango to help address their mental and physical health needs. This turned into a longer project to help empower them to become self-sufficient.
Fast forward to today and COVID-19. As the virus spread across Guatemala, Heart of Travel has teamed up again with the San Juan Alotenango widows to make cloth face masks.
"We're not doctors, we're not scientists, we're not medical professionals," said Glass.
"There hasn't been enough research to give concrete information about the effectiveness of cloth masks. That said, they're being recommended as some of the best options for people to use."
The most effective masks are the N95s, but there's a global shortage of these right now. Any N95 masks in Guatemala should be reserved for medical professionals, firefighters, police, and anyone else out there exposing themselves to help flatten the curve and save lives."
That's one of the reasons why we recommend the cloth masks, to free up the N95 masks for those who need them the most."
The immediate task is to collect recycled clothing and other materials to make filtered masks, which the women can sell. Heart of Travel will market the masks, coordinate logistics and distribution, and get the women more exposure for their product.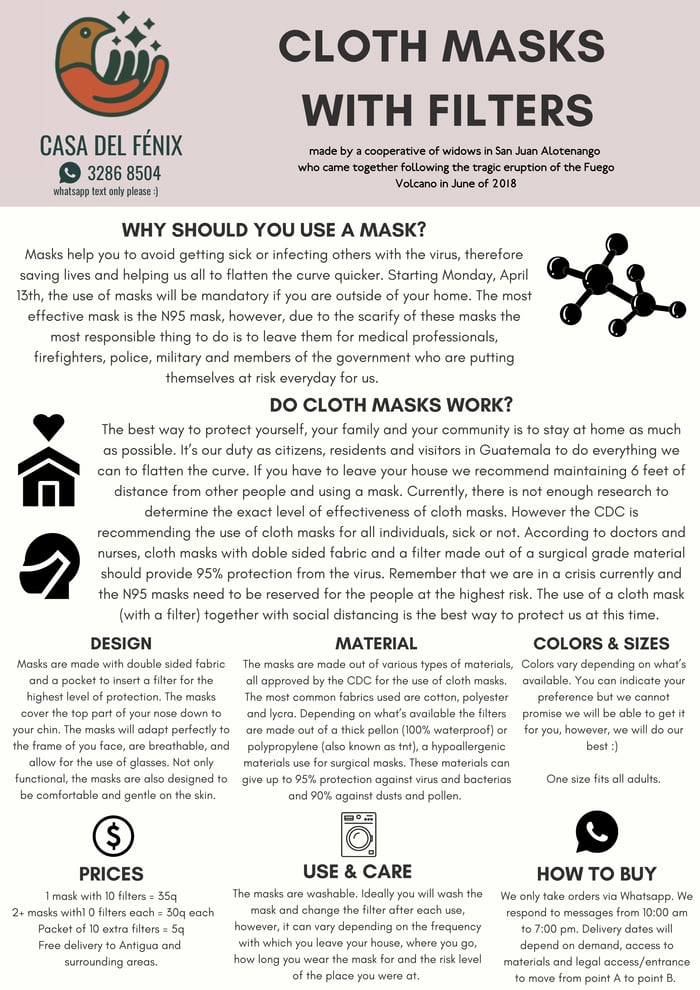 The masks are selling for a little under $4 and the women make about $2.60 in profit.
Coronavirus has brought economic devastation to Guatemala, and so any extra income from making these masks is welcome. Heart of Travel is also buying 50 masks "at cost" (about $1.30 each) to donate to local firefighters and others who'll need them during the pandemic.
"If anybody's working with an NGO or community outreach program, please get in contact with us and we'll try to get you cheaper or free, donated masks," said Glass.
It's worth remembering that as Heart of Travel helps with these face masks, they're facing an existential threat. With Guatemala locked down and tourists not allowed in, their business is in real danger and they're operating on a month-by-month basis.
This makes their effort with the widows of San Juan Alotenango all the more admirable. They're putting something much bigger than themselves ahead of their own immediate survival.
We are so grateful that we can keep our entire team employed for the month of April thanks to generous donations from our loyal supporters! Thank you all! pic.twitter.com/RFwDFBTAWo

— Heart of Travel (@heart_of_travel) April 1, 2020
For more info on getting these face masks or helping in the effort to create them, contact Heart of Travel.
Read about our Central American coronavirus crisis heroes:
James Dyde is the editor of www.centralamerica.com. He lives in Escazu, Costa Rica.