How the Bavaria beer brand in Costa Rica is helping the Fuerza Animalia organization highlight the cases of injured and traumatized dogs who desperately need homes.
Amid all the stress and bad news engulfing us right now, we can still find some moments of sunshine. We can still find stories of people, companies, and groups doing good things in Central America.
One such story this week comes from the Bavaria beer brand in Costa Rica, who've been working with animal rescue organization Fuerza Animalia to promote dog adoption.
The campaign (called "Dejarte Adoptar") is part of Bavaria's "Dog Celebration" platform launched in July 2019.
Since then, the world has changed dramatically, in ways no-one could imagine. The basic needs of homeless dogs in Costa Rica haven't changed, through. They've only become more urgent, as the economic hardships of the COVID-19 pandemic intensify.
Hard times always result in more abandoned and homeless pets.
Bavaria and Fuerza Animalia's campaign is focusing on the the most needy dogs. Dogs with health conditions or trauma (through accident/injury or abuse) that people don't want. Dogs needing rehabilitation and extra-special care.
The original 2019 Dog Celebration campaign was all about finding volunteers to help homeless dogs in Costa Rica through various events at the time.
The 2020 campaign, given the current health crisis, is more virtual. It's about telling the stories of needy dogs and spreading awareness. The idea is to find people willing to share these dogs' stories and help find homes for them.
Fuerza Animalia's Facebook page is full of photos of these dogs, each with an individual story about what happened to them. They currently have over 30 dogs in their care.
So what are the best ways to help the campaign?
Well, the best way, if you can, is to adopt a dog! Check out the Fuerza Animalia Facebook page to meet the dogs and see which ones touch your heart. Then contact the association to go forward.
You can also help Fuerza Animalia by fostering a dog. That means taking an animal into your home to help rehabilitate them while the association looks for a permanent place for it. Again, contact them for more info.
And, of course, Fuerza Animalia desperately needs funds. You can donate to Fuerza Animalia through Bavaria's Facebook page, where you'll see their bank info.
Speaking to La Republica, Maria Mesalles from Fuerza Animalia thanked Bavaria for their help this week.
"Thanks to Bavaria's support, we'll have various options to adopt dogs and also receive financial support," she said.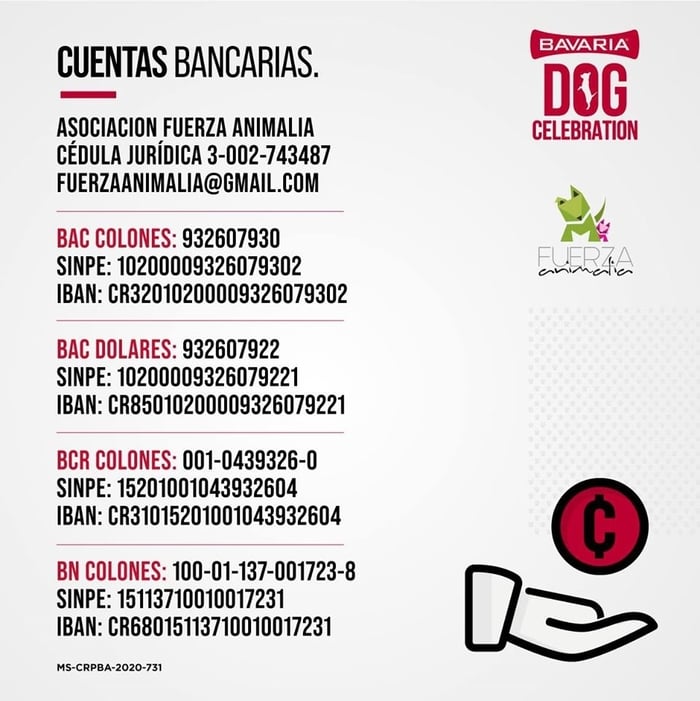 Bavaria and Fuerza Animalia are not the only organizations helping dogs in Costa Rica during this crisis.
In early April we highlighted the work of Anna-Maya Moburg from iWantHelp and Luis Reyes from Animal Services. They continue helping provide dog food for needy pets and their owners in San Jose.
As poverty and unemployment in Costa Rica continue to soar during the COVID-19 pandemic, more dogs will need help. We know how hard it is to find spare money and resources to help needy dogs right now. That said, we hope that by spreading the word about people helping homeless dogs, we can at least contribute in a small way.
If you're helping animals in Costa Rica or anywhere in Central America during this crisis, let us know. We'll be happy to highlight your organization and your work.
Related Stories:
The Fine Art of Rescuing Street Dogs in Costa Rica
Ten Things Expats Should Know Before Bringing a Dog to Costa Rica
How People are Helping Abandoned and Stray Animals in Nicaragua
James Dyde is the editor of www.centralamerica.com. He lives in Escazu, Costa Rica.