If you know Honduras, you know Mr Gringo, the baleada king. You can't miss him. But who is Mr Gringo? Here's the story behind the myth in the man's own words. And also another special treat… Mr Gringo's own favorite baleada recipe!
One thing I've learned about living and traveling in Central America is this: ANYTHING IS POSSIBLE.
Of course, that means anything both good and bad is possible. But in these stressful times, let's focus on the good. Let's focus on becoming famous.
It must have been around 2010 when I started on my unlikely journey to become one of Central America's most famous gringos.
I should really be modest and say one of Honduras' most famous gringos, not Central America's. Because if you live outside of Honduras, I doubt you've ever seen or heard of me. But if you live in Honduras, you definitely know who I am. Could be I'm the most famous gringo in Honduras since they shot William Walker in Trujillo. You might even think of me every time you eat. Let me explain.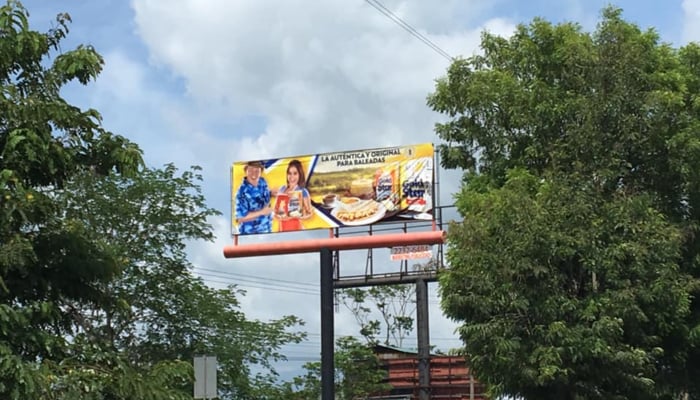 It all started when a friend in Guatemala sent me a Facebook post.
The post was from a production company looking for a Spanish-speaking gringo. Not any Spanish-speaking gringo, though. They wanted a gringo who speaks Spanish with an accent to star in a TV commercial they were filming in Costa Rica. I guess they chose Costa Rica because, well, you know, there are lots of gringos in Costa Rica.
When I tell the story to friends, I usually embellish it to say they needed someone with Brad Pitt good looks and charm. That guy couldn't speak a lick of Spanish, though. So they settled for me.
Brad Pitt or not, I was intrigued. I called the number and it turned out the casting was in Escazu, where I happened to live at the time.
I went in, shot a short video, and the next day they told me they wanted me for the part. I was about to become "Mr Gringo" of Harina Gold Star and my life was about to take a weird and wonderful new direction.
A week later we filmed at a historic Escazu home, made out to look like a coastal Honduran market.
The set was a food stand selling baleadas, a traditional Honduran delicacy using Harina Gold Star, the top flour brand in the country. A baleada is a thick flour tortilla, loaded with everything from refried beans, cheese, and butter to eggs and sausages.
Without doubt, it's the absolute best comfort food in Central America (sorry pupusas). Hondurans eat baleadas for both breakfast and dinner. They consider it a national treasure, and if you try one, you'll know why.
My "baleadera" (woman who makes baleadas) in the commercial was a fun Tica and we hit it off right away on set.
While goofing around practicing our lines, I decided to add a little double entendre to one part of the commercial. I was supposed to refer to the baleada as "rica y suavecita" (delicious and smooth) while looking at the baleada. But I said it with a flirtatious tone while undressing the actress with my eyes.
The actress tried to act demure as I said "rica y suavecita," and the producers noticed. They loved it and began cracking up. The director screamed at me, "That's it! Say it JUST LIKE THAT when you bite into the beleada – but look at her!"
Here's how that first commercial played out:
When the commercial aired in Honduras, I have to say it was an instant hit. People loved it.
Who knew a goofy gringo nobody in Escazu, Costa Rica could sell flour and represent Honduras' national culinary treasure? Sales numbers are generally confidential but I've been quietly told that Hondurans buy millions of bags of Harina Gold Star every month.
The success of that first commercial led to something even better.
One day I got a call from the Honduran representatives. "Hey Mr Gringo," they said. "We need you to come to Honduras to meet your fans!"
Who can resist an all-expenses paid trip to Honduras with as many baleadas as you can eat? Not me, that's for sure. They booked my flight and hotel with only one request. That I come dressed as Mr Gringo.
Little did I know I was to arrive in San Pedro Sula during the biggest festival of the year, The Feria Juniana de San Pedro Sula, celebrating the patron saint of the city. San Pedro Sula was buzzing and when I got through customs and immigration, they met me in style.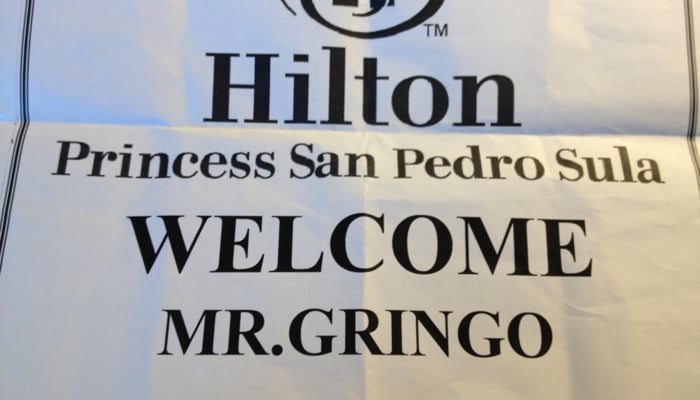 The red carpet greeting at the airport was a precursor of exciting things to come.
The city was electric. Everyone on the street recognized me like a rock star. People wanted selfies with me and autographs. It was amazing. But ever-professional that I am, I was also there to work. I performed my Mr Gringo routine at markets, grocery stores, and in front of thousands at the Juniana Festival.
There may or may not be footage of me out there dancing the traditional "punta" dance for the masses. If there is, I've never seen it. I hope you haven't either. A goofy white boy dancing to tropical music is something you can't unsee.
It was a whirlwind experience and I loved it.
The popularity of the character has led to even more appearances with the lovely local ladies:
Becoming Mr Gringo has allowed me to meet thousands of Hondurans I would never have met otherwise.
Honduras has had a rough go of it as a country. What makes the headlines about Honduras abroad might not cast it in the most positive light.
But I can tell you Honduras is home to some of the nicest, most generous, and warm-hearted people I've ever met.
Honduras is also blessed with some of the best natural beauty in Central America. I hope more gringos get to experience Honduras and spend their tourist dollars there. Places like Roatan, La Ceiba, Trujillo, and Copan are just some of the incredible places you can visit.
I now get to film a commercial about once a year and still travel to Honduras for publicity stunts. Or at least I did before COVID. I hope Mr Gringo gets back up there on the other side of the pandemic. Even though he lives in Costa Rica, hopefully Mr Gringo will continue to be… "
mojado en Honduras
forever!"
Mr Gringo's special baleada recipe:
Ingredients for the baleada:
4 cups of flour (preferably Harina Gold Star)
1/2 teaspoon of salt
1 teaspoon of baking soda
1 cup of water
1 teaspoon of vegetable oil
Ingredients for the topping:
1 cup of refried beans
1 cup of scrambled eggs
1/2 cup of of shredded cheese
1/2 cup of sour cream (natilla if you're in Central America)
1 cup cooked and sliced sausage (use hot dogs for a true Mr Gringo experience)
Preparation:
1. Mix all the dry
baleada
ingredients in a large bowl
2. Add water and mix until the dough is smooth and does not stick to your hands
3. Roll dough into small palm sized balls. Use shortening on your hands to give dough balls a glazed texture
4. Stretch balls into flat circles the size of a traditional tortilla
5. Cook in a preheated skillet or pan until golden brown and the
baleada
inflates (but not too much!) with air pockets
Once the baleada is ready, add the topping ingredients, fold in half, and enjoy it like Mr Gringo!
Aaron Vanecek is a US transplant to Costa Rica, where he now lives in the countryside outside of Turrialba with his wife and children. He works for Namu Travel as a sales team manager and occasionally moonlights in Honduras selling a famous brand of flour. For any questions about travel or life in Costa Rica, reach him at aaronvanecek@namutravel.com.