What are the Guatemala entry rules at the moment? Do all travelers need to be vaccinated or not? After a day of confusion and mixed messages, no-one seems to know. Businesses in Guatemala and travelers to Guatemala deserve far better.
One of the more frustrating aspects of this pandemic is the confusion caused by governments as they panic about variants.
A case in point today is Guatemala. Last night, the Ministry of Health published a new ruling that says foreign travelers – meaning non-citizens or permanent residents – entering Guatemala must now be fully-vaccinated.
In the ruling last night, the Health Ministry said that all foreign travelers arriving in Guatemala must show a negative Covid test AND proof of vaccination.
Up until now, it's been a negative test OR vaccination.
The ruling came in a form of link to a page on the Health Ministry's website. The page had another link to a .pdf, called Circular Jefatura No. TLGG-43-2021, which stated that both a vaccine and a negative test are requisites to enter Guatemala. The Health Ministry also shared this on their own Facebook page.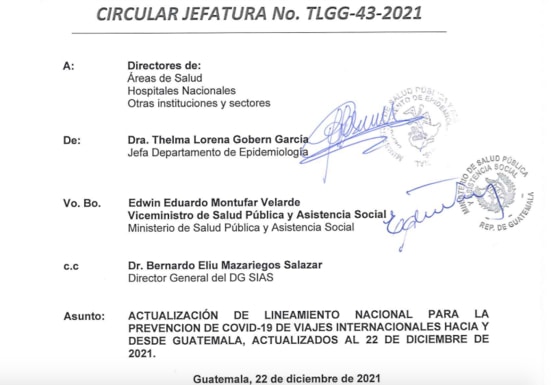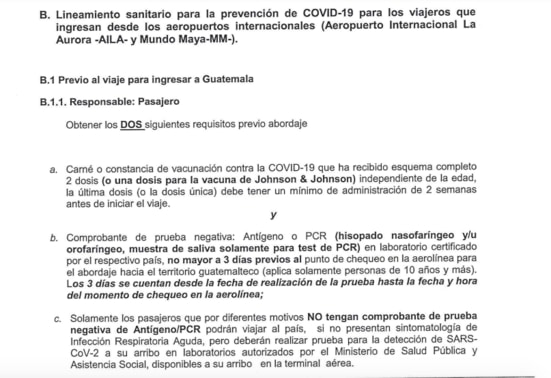 And in the meantime, the U.S. Embassy in Guatemala also said today that you need both vaccine and test:
But here's the thing.
After the Health Ministry shared this on their Facebook page late last night, and after it got shared around the various Guatemala expat Facebook groups, it disappeared. The Health Ministry both deleted their Facebook post and took down the page itself from their site.
Plus, despite the U.S. Embassy saying you had to be vaccinated to enter Guatemala on their site, they've said nothing on their social media. You think they would, news like that. After all, Guatemala would be the first country in the region to demand vaccination in this way.
Furthermore, the Immigration Department updated their own entry advice for Guatemala last night. And they said nothing about this new ruling. Not a word.
All they said was what we already knew – if you're unvaccinated or partially-vaccinated, you need to provide a negative Covid test to enter Guatemala.
Fully-vaccinated travelers must only present proof of vaccination. This applies to all travelers entering Guatemala, whether they're citizens, residents, or tourists.
#ControlMigratorio | Si deseas ingresar a nuestro país, en el siguiente enlace encuentras los requisitos y las medidas sanitarias establecidas. ➡️ https://t.co/xYbNiHEpZB… pic.twitter.com/HwTwRVNUNv

— Migración Guatemala (@MigracionGuate) December 22, 2021
So what gives?
Is the vaccination ruling something in the pipeline, something leaked out last night by mistake? Or was it introduced and then quickly repealed under some pressure or another? Is the U.S. Embassy late to the table here? No-one seems to know.
Is this something Guatemala intends to introduce after the Christmas Holidays instead? Or did they fear a rush of unvaccinated tourists, but then feared the economic consequences of denying entry to said tourists? We have no idea.
But the question remains, if Guatemala does plan to do this after the Holidays, then it seems a little cynical to allow unvaccinated tourists in before. Unless, of course, they're not at all worried about Omicron which is, by most accounts, far less dangerous than previous variants of Covid. And if that's the case, then Guatemala, like all countries, should ditch all restrictions immediately and get back to normal.
People catching Omicron are 50% to 70% less likely to need hospital care compared with previous Covid variants, UK Health Security Agency analysis says https://t.co/eqRxHJlBl0

— BBC Breaking News (@BBCBreaking) December 23, 2021
This pandemic and its rules/restrictions are hard enough on travelers and on businesses without uncertainty like this.
Does the Guatemalan government know or care about this? Or is it just utterly incompetent?
Right now, all we can say is that we have zero idea on what the rules are to enter Guatemala. We'll assume (for now) they're the same as usual, given the Immigration Department's tweet last night hasn't been taken down, like the Health Department's was. But then what the heck is the U.S. Embassy saying?
For the sake of thousands of Guatemalan businesses teetering on the edge right now, and the travel plans of others, please could we have some clarity?
James Dyde is the editor of centralamerica.com. He lives in Escazu, Costa Rica.