We take a look at the Central America Covid measures, curfews, and restrictions on the ground in each country as things stand right now.
Which Central American countries are still under restrictions of one type or another? Are curfews and mandates still in place? Does segregation exist between the vaccinated and unvaccinated? Here, we take a look at each country and outline the restrictions (or not) in place right now.
Again, we're not talking about entry requirements and whether you need to test to enter or not. You can find that info here. This is about what you'll see/experience while in any given Central American country.
Belize
Curfews are no longer in place, dropped in March 2022. Belize then dropped all mask mandates, social distancing rules, and capacity limits – everything is open again like it was pre-pandemic.
Belize announces an end to all internal Covid restrictions effective tomorrow, April 1. Testing and insurance mandates for unvaccinated tourists will remain, though.https://t.co/rRN5QJNfhk

— Central America Living (@VidaAmerica) April 1, 2022
Costa Rica
Costa Rica has dropped all internal Covid restrictions, with social distancing rules, capacity limits, mask mandates, vaccine mandates, and driving restrictions all gone. In August 2022, Costa Rica finally ended its State of Emergency, in place since March 2020.
Costa Rica government puts end to 'State of Emergency' due to covid-19 https://t.co/qW32qlRPY6

— Rico (@ricoqmedia) August 10, 2022
El Salvador
El Salvador removed all Covid restrictions in November, 2021. There are no internal restrictions in El Salvador, although the government recommends vaccination, mask wearing, and hand hygiene.
Breaking: El Salvador eliminates all Covid travel restrictions effective immediately. No testing or proof of vaccine required to enter the country from now on. https://t.co/gKObIA6Tkc

— Central America Living (@VidaAmerica) November 17, 2021
Guatemala
There's currently no curfew operating in Guatemala and most restrictions are over, included a short-lived experiment with mask mandates in July 2022. Masks are now only compulsory in the following areas:
All hospitals, health centers, swab and vaccination posts, medical clinics, and laboratories
Care and attention centers for the elderly
Detention and arrest centers
Public transport
Guatemala operates on a system where each department or municipality is color-coded depending on the amount of Covid cases in each area, which determines risk. Green is "normal", yellow is "moderate", orange is "high", and red is "maximum".
As it stands, red areas have social distancing mandates, where people have to keep a distance of at least 1.5 meters from each other, both indoors and outdoors. This is also recommended – although not mandated – in closed spaces in orange alert areas. Hand hygiene is also mandated throughout the country.
Check out this map from the government which is revised every couple of weeks. This shows the current risk level of every part of Guatemala.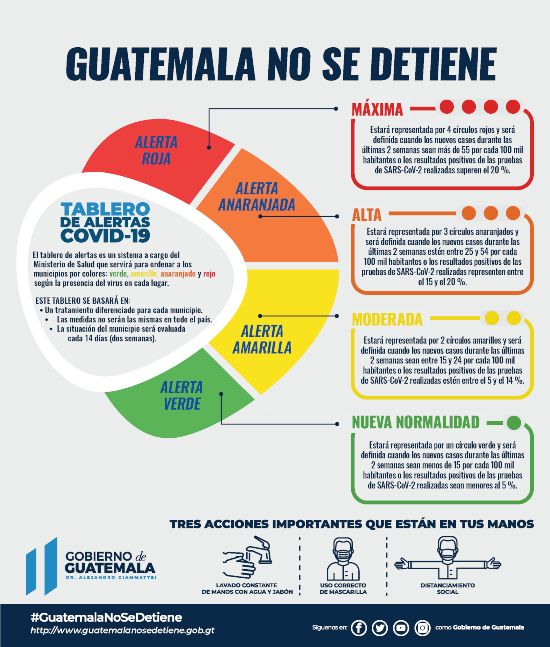 Honduras
Honduras separated the vaccinated and unvaccinated with a 10:00 PM curfew for the unvaccinated up until October 2022, when, at last, it abolished this draconian rule. That said, the U.S. Embassy in Tegucigalpa recommends you – if vaccinated – to carry your proof of vaccination with you in the (unlikely) event the police ask you for it.
Most businesses are now open with no capacity limits in place. Mask wearing is still mandatory in public.
Nicaragua
Nicaragua has no internal Covid restrictions at all. The government continues to recommend the usual sanitary measures, but mandates nothing.
Panama
Panama is back to normal after, for a while, imposing one of the most brutal lockdowns in the world during the height of the pandemic.
Masks are still mandatory on public transport, in any heath facility (public or private), and for anyone who handles food as part of their job.
It's worth noting here that all these rules are current – in place right now.
But if we've learned anything over the past two-and-a-half years, things can change on a dime. A good example being Guatemala's reversal on masks in July. Bear in mind, these are the official guidelines, and things might not play out this way on the ground, in the moment.
In the meantime, we hope this brief rundown helps. We'll continue to update this article as situations change on the ground around the region.
James Dyde is the editor of centralamerica.com. He lives in Escazu, Costa Rica.