Craig Dempsey from Biz Latin Hub looks at PEO in Guatemala and explains why this type of outsourcing solution is gaining traction in that country for investors.
Within the past year, we've seen a notable uptick in interest in professional employer organization (PEO) services in Guatemala. PEO services are a type of outsourcing solution allowing investors to hire local staff without going through company formation.
But why Guatemala and why now? While it's impossible to state with certainty exactly what has driven this pattern – which reflects the growing interest we've seen in PEO services in Central America over recent years – feedback from clients and market conditions offer some indications.
Below, we look at some of the reasons why PEO in Guatemala seems to have gained so much ground. First, though, it's worth explaining a bit more about what PEO services actually are.
What are PEO services?
PEO services are a type of outsourcing solution that sees the provider – often referred to as a PEO firm – hire staff on behalf of a client. In practical terms, that means those employees are officially employed by the PEO firm's locally incorporated entity, but they report directly to the client, who retains full control over their workloads, duties, and schedules.
The PEO firm will generally offer additional assistance to complement that service, including support with recruiting and hiring staff and overseeing their payroll.
In return, the PEO firm will charge a fee, usually on a per-employee basis.
It's worth mentioning that another term for PEO services is employer of record (EOR) services. And while some providers draw a distinction between PEO and EOR, they are essentially the same service.
The obvious advantage of PEO in Guatemala, or any other country, is that it allows the client to avoid forming a local entity through which to hire staff.
Another major benefit is that the PEO firm will eliminate a major compliance issue, with the services agreement including adherence to all aspects of employment law in Guatemala, while their overseeing of the payroll also removes a major administrative burden from the client.
🔍 Do you know how to engage with a #Professional Employer Organization (#PEO)?

📖 Here is a step by step #guide to help you with this process.

💡 Biz Latin Hub can #support you and provide you the services you need. Contact us now: https://t.co/rgxZcu6l4a pic.twitter.com/VTAfHN4Rjv

— Biz Latin Hub (@BizLatinHub) October 13, 2021
PEO is a popular choice in a range of situations, but we see particular interest in it when it comes to two types of hiring.
The first is when it comes to hiring a local or regional executive or representative. That's often a sales representative, or someone otherwise representing the client in front of partners, suppliers, and other stakeholders.
The second is when it comes to staffing a team for a short-term project as temporary support for operations back in the client's home company. That is particularly true when it comes to IT and other tech professionals, be they software engineers, developers, or any other type.
Oftentimes, a client will only need a team of devs for a few months, or need extra hands on deck for a few weeks. This makes company formation and subsequent liquidation unappealing.
In the case of executives, the arrangement will often go on much longer, but the convenience of PEO still makes it preferable to having to maintain a local entity.
Why has PEO in Guatemala become so popular?
There are a few reasons why PEO in Guatemala appears to have gained in popularity over recent years, and particularly within the past 12 months. They include:
Increasing awareness of Central America:
Investors appear to be showing increasing awareness of Central America as an investment destination. This is due, in part, to its close proximity North America's three major markets (Canada, Mexico, and the United States). Central America thus benefits from the increasing trend for 'nearshoring' – which relates to North American companies moving production from Asia to the Western Hemisphere.
While Mexico is one of the most popular destinations for US companies that are relocating value chains, Central America's geographic location and easy access to the United States means that it's also on the radar as an investment destination.
That interest is buoyed by considerable logistical advantages. For example, with less than 2,000 kilometers separating the six biggest capital cities in Central America, each one served by direct flights to major U.S. cities. In the case of Guatemala, these logistical advantages extend to having Pacific and Caribbean coastlines with high-volume ports on each.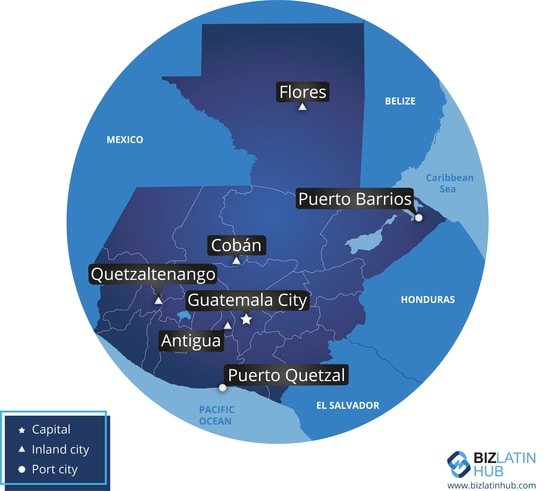 An improved security situation:
Central America is known for high levels of crime and violence, and while it would be remiss to suggest it's overcome these issues, it is undeniable that the situation is better now than it has been for years.
While Costa Rica and Panama are already well-known for their comparatively low levels of violent crime – El Salvador, Guatemala, and Honduras are not. The association of danger and crime with these Northern Triangle countries prevails.
Yet, in Guatemala, the homicide rate has dropped by over half since 2013. Honduras has also decreased its homicide rate over the same period. And while President Nayib Bukele of El Salvador faces many criticisms, there's no doubt that homicide has also plummeted in that country during his tenure.
Mexico's outsourcing ban:
Another factor that has come into play within the past year has been Mexico's ban on certain types of outsourcing – with PEO services for employees engaged in 'core tasks' effectively outlawed.
While there is still a great deal of confusion in Mexico with regards to this ban, and providers continue operating in something of a gray area with regards to some outsourcing services they are providing, one knock-on effect appears to be an increase in interest investing elsewhere in Latin America.
We've seen a number of our clients in Mexico choosing PEO in Guatemala and El Salvador as their preferred alternative.
Good conditions for doing business:
While investors have become aware of Guatemala due to shifting market conditions and trends, another draw is the good conditions for doing business in the country.
Those include the ready availability of workers at competitive rates, with a growing services sector, increasing numbers of companies engaged in tech and innovation, and a young population to draw labor from.
Other conditions that make Guatemala a good place to do business are the fact that it has fair legislation in place when it comes to workers. Unlike some countries in the region, employees have to provide reasonable notice periods before vacating a position, while compensation related to terminations does not run wild.
It is impossible to know the extent to which any of these different factors are driving the increasing interest we see for PEO in Guatemala. But these are the factors mentioned with some frequency by our PEO clients in the region.

Find more statistics at Statista
Craig Dempsey is the co-founder and chief executive officer of the Biz Latin Hub Group, an organization dedicated to assisting investors in Latin America and the Caribbean.