Mexican workers have twice as much to celebrate this year, as annual leave has increased by six days. But that only moves it closer to Central America, where allowances are often more generous, writes Victor Anaya from Serviap Global.
There's been much made of Mexico's new "dignified vacations law" to double paid annual leave from six days to twelve. This edges Mexico closer to its neighbors in Central America when it comes to paid time off.
In fact, Belize, Costa Rica, El Salvador, Guatemala, Honduras, Nicaragua, and Panama all offer more than Mexico, even after this law.
🇲🇽 🗓 #Mexico's new paid time off (PTO) allowances have now come into force for all formally employed people.

Read our recent article to understand what increased #PTO means for workers and businesses: https://t.co/1IumNFx0jW pic.twitter.com/5PIhWKMggS

— Serviap Global (@serviapglobal) January 2, 2023
Nicaragua is well-known for the significant paid time off workers receive, while Panama also offers significant vacation time.
Nicaragua's generosity should be unsurprising to anyone aware of the country's left-wing politics. Panama might be less expected, given its reputation as a hub of investment and trade, home to a large, influential business community.
At the other end of the scale are Belize and Costa Rica, two of the richer countries in Central America, with the latter known for offering a high quality of life to its citizens.
Some Central American countries reward employees that stay with a company for a long time, adding days as a worker accumulates years at the same place.
Paid vacations are not the only time off that workers have, of course.
There are also public holidays, and these are usually also paid. This varies from country to country and holiday to holiday.
Some holidays shift to the nearest Monday, others keep their exact date – so if it doesn't fall on a workday, it's unpaid. Central American countries give between nine and 13 extra days off per year, although not all those end up as paid holidays.
With a strong focus on family life, it's no surprise to see that every Central American country offers paid maternity leave. That varies between 10 and 16 weeks, with laws usually stipulating mothers take half that time off before the expected birth date.
Paternity pay is much less generous. Central American fathers usually don't get more than a few days off to smoke their celebratory cigars.
It's also worth noting that many Central American workers operate in the informal economy. This leaves them outside of the legal frameworks in many respects, often unable to count on the holiday allowances and other rights that formal workers have.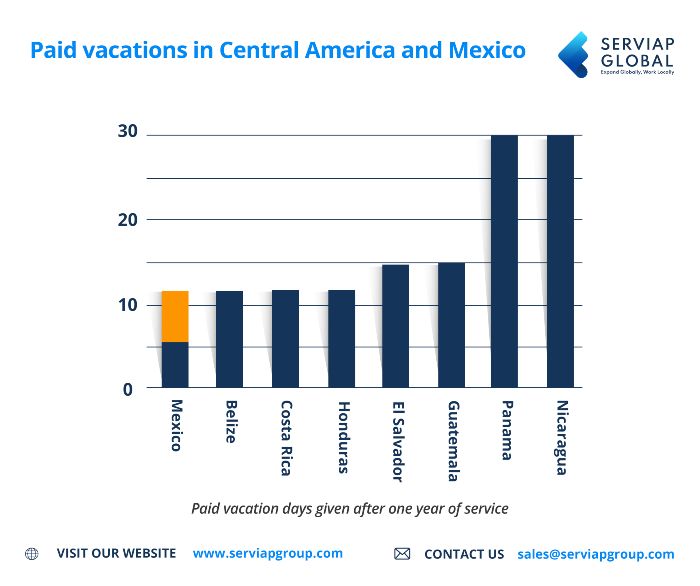 Paid time off around Central America
1. Nicaragua
Nicaragua's statutory vacation allowances make it one of the most generous countries for workers' paid time off in the world.
Employees receive 15 paid days of holiday as standard, but that allowance doubles after a single year of employment with the same company. That makes Nicaragua comparable to European Union countries.
Nicaragua also gives workers nine paid public holidays per year, while maternity leave stands at 12 weeks, generally starting four weeks before a doctor-endorsed due date.
Over 80% of workers operated in the informal sector in 2021, according to the United Nations University.
2. Panama
Panama matches Nicaragua's 30 days after a year of employment, but there's no minimum before that. It also offers a generous 14-week maternity leave. Paternity leave, meanwhile, is three days.
There are 13 public holidays in Panama. All this adds up to put Panama in a comfortable second place, which reflects its generally strong economy and solid work culture.
Almost 56% of workers in Panama worked in the informal sector in 2021, according to Statista.
3. Honduras
Honduras makes it attractive for workers to stay in the same company, with the ten days of annual leave granted in the first year rising to 12 in the second, then 15 the year after. Finally, paid vacation allowances settle at 20 days per year for anyone with four or more years at the same company.
Maternity pay is quite modest compared to the rest of Central America, with only 10 weeks provided; four before the due date and six after.
Honduran law provides a total of 11 days of paid public holidays.
Around 83% of workers in Honduras worked in the informal sector in 2021, according to Statista.
4. El Salvador
El Salvador, which has a December 12 to December 12 working year, makes sure that formal workers take vacations each year.
The country grants 15 days of annual paid holiday that workers can't roll over or get paid off. It's only if a worker leaves a contract before the year is up that they can have vacations paid off.
Paid maternity leave totals 16 weeks, beginning six weeks before the due date. Paternity leave, meanwhile, is three days.
On average, El Salvador provides 11 days of paid public holidays to its workers each year.
Over 68% of workers in El Salvador worked in the informal sector in 2021, according to Statista.
5. Guatemala
Paid time off in Guatemala is set at 15 days per year after one year of service, which employees can start using after 150 days of work. There's no mandatory increase for length of service like in other countries.
Paid maternity leave stands at 12 weeks, beginning 30 days before the due date. In the tragic event of a miscarriage or still birth, the mother can receive 42 paid days off. Fathers get two days of paternity leave.
There are generally 10 paid national holidays throughout the year in Guatemala.
According to Statista, some 79% of workers in Guatemala worked in the informal sector in 2021.
6. Belize
Belize grants all workers two working weeks holiday per year. That means 12 days per year for anyone who works a six-day week and 10 days per year for those who work five day weeks.
Maternity leave in Belize is set at 14 weeks, starting six weeks before the birth. There is no legal requirement to grant paternity leave to new fathers.
During the year, Belize celebrates around 13 public holidays.
Around 42 percent of workers worked in the informal sector in 2021, according to the Statistical Institute of Belize.
7. Costa Rica
Costa Rica offers the lowest paid time off allowance to workers with one year of service, with only 12 days provided after 50 weeks of working at the same company.
Maternity leave, though, is the longest in Central America, consisting of one month before birth and three months afterwards.
Costa Rica offers paid leave for nine public holidays, but two significant days — the Feast of Our Lady ( in August and Army Abolition Day in December — are not paid if taken as holiday.
Costa Rica has the lowest level of informal employment in the region, at less than 37 percent of the workforce in 2021.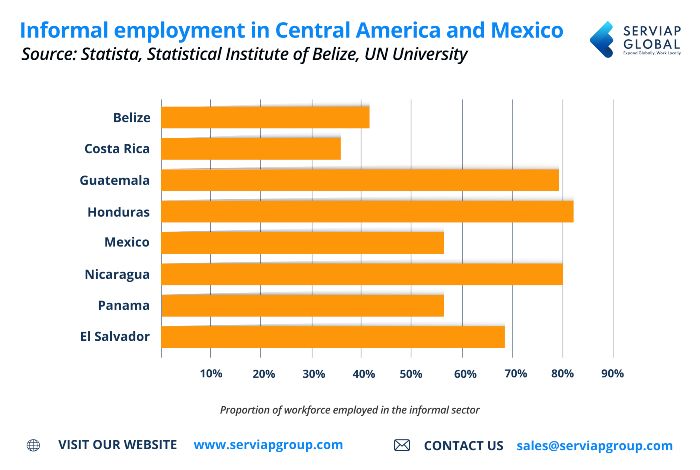 Is formal employment a factor in paid time off in Central America?
It's notable that the two countries offering the least generous amounts of paid time off to workers – Belize and Costa Rica – also have the lowest rates of informal employment.
That could arguably be a factor in those lower allowances, given that the higher the rate of formal employment, the greater the number of people who must receive those legal benefits.
So, it will be interesting to see if other countries reduce their more generous allowances in the future, if they manage to move more people into the formal economy, given they'll likely face growing pressure from employers to do so.
Victor Anaya is the co-founder and CEO of Serviap Global, a company that provides EOR and recruitment services around the world.